The latest Bluetooth Low Energy features promise complete home and building coverage, along with entirely new use cases in industrial, commercial, and outdoor situations. IoT developers have already produced some intriguing solutions based on the new specifications.

Here are just a few of the many potential application areas:
Beacons
With the big increase in broadcast capability through the Bluetooth Advertising Extension feature, Bluetooth beacons can send more information with every broadcast. They no longer have to rely on sending only a URL to a user's device, as they can include much more information in the broadcast message. Consequently, the user won't need an internet connection to benefit.

Mark Powell, executive director of the Bluetooth SIG said that Bluetooth 5 is "mobilizing the adoption of beacons, which in turn will decrease connection barriers and enable a seamless IoT experience."

Read more: Bluetooth LE beacons pinpoint a single car amongst thousands
Location Services
With Bluetooth Direction Finding, the possibility of absolute positioning of products and things in three-dimensional space, with low power wireless, is real. It's a significant addition to Bluetooth Low Energy's capability arsenal. We believe it can have a similar impact on indoor locations as GPS had on outdoor positioning.
On the macroscale, GPS has fundamentally changed the world of travelling and tracking for cars, people and objects. Bluetooth Direction Finding may have a similar impact on the microscale inside buildings and properties. Besides, Bluetooth Direction Finding will offer new and improved use cases for real-time locating systems (RTLS) for asset tracking in a wide range of applications, from logistics and warehousing to value-asset security in hospitals and factories.
The Bluetooth Special Interest Group (SIG) predicts 431 million Bluetooth location services products per annum by 2023. Quuppa, a pioneer in location services, mainly uses the Angle of Arrival (AoA) method of the Bluetooth Direction Finding feature to offer complete RTLS solutions for a wide range of applications. In Quuppa's home market Finland, this technology can be found in all major national league ice hockey stadiums, providing real-time information on puck location and detailed data on player positioning for later analysis.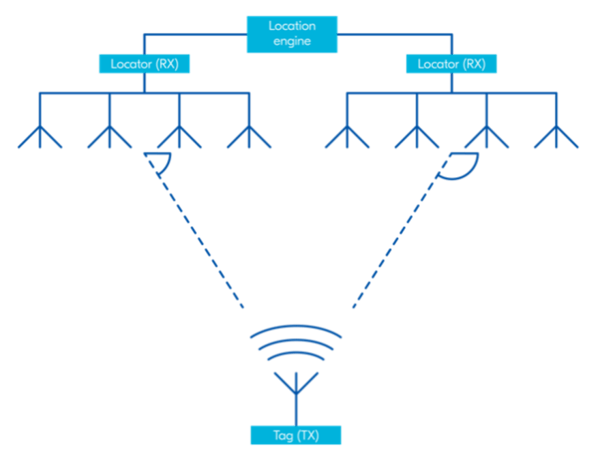 Quuppa delivers the fixed locators that determine the direction of the signal from the tags with accompanying software, such as the Quuppa Positioning Engine, and everything else needed to plan, deploy, configure and simulate the system.
Quuppa relies on tag partners to provide tags matching all the various application requirements their customers may have. To be compatible with the system, the tag partners integrate firmware provided by Quuppa. Firmware is available for Nordic's SoCs, upon which most tag partners prefer to base their tag design.
Read more: Quuppa's Direction Finding Experience Comes to Bluetooth
Read more: Direction finding technology is enabling sports leagues and teams to increase revenue by enhancing infotainment
Drones and radio-controlled toys
The latest iteration of Bluetooth should ensure that toys that have delighted kids and adults alike for generations can keep pace with modern trends. Standardization is the first obvious advantage. Any Bluetooth car, boat or drone can be controlled by any Bluetooth standards compliant smartphone or controller.
The increased range through the Bluetooth Long Range feature is also a great advantage. Even though most hobbyists won't want to be more than 200m away from their toys, being able to do so reliably and not worrying about losing a connection could allow long and more exciting racecourses for toy cars, for example.
Among other benefits, Bluetooth can make it easier for vehicles to give users valuable, real-time feedback about their condition, permitting collision detection and avoidance to drones.
Read more: Bluetooth 5 for Remote Controlled Toys
Sport and fitness
Whether it is an activity tracker, a sports watch, a smart scale or bike equipment, Bluetooth dominates the sports and fitness equipment market. From activity trackers that continuously assess our physical activity and exercise goals to sports watches with increasing computational powers.
Bluetooth Low Energy is ideal for this equipment as it provides an ultra-low power communication channel to our smartphones. Furthermore, integrating location and movement sensors with wireless technology in sports equipment is revolutionising the way athletic performance can be monitored, analysed, and improved.
Today's connectivity SoCs need to be very capable of meeting the modern sports equipment needs, with outstanding energy efficiency, rich peripheral sets, and compute power topping the list, with competition as an integral part of how they are used.
Read more: Sports equipment that tracks individual performance is changing the game for athletes and coaches
Smart locks
Smart locks gain a lot of popularity as they allow users to wirelessly control, share, and monitor their locks on a companion smartphone app, eliminating door keys and replacing the door lock when keys are lost or stolen.
When building their future-proof smart locks, many leading manufacturers rely on the best-in-class hardware and software security features in the nRF52® and nRF53® Series connectivity SoCs. Advanced security features are embedded in Nordic Semiconductor's SoCs, such as the Arm CryptoCell supporting many FIPS-compliant cryptographic algorithms, like AES-256 encryption.
Read more: Nordic-powered Bluetooth Low Energy smart locks support Cloud-based software for management of enterprise security applications
Read more: Poly-Control Aps employs nRF52832 to create retrofit smart door lock
Health care equipment
Bluetooth Low Energy technologies are being heavily adopted in the healthcare industry. Various health measurement equipment, such as blood pressure monitors and blood glucose monitors, no longer use displays and interface peripherals. Instead, they rely on Bluetooth Low Energy to provide an ultra-low power communication channel to our smartphones. Consequently, health measurement equipment gets smaller, and batteries last much longer than their non-Bluetooth LE-connected predecessors. Besides, sending the measurement to a smartphone enables logging and advanced data processing.
Check CLIPSULIN, which connects to most insulin pens, retrieves information related to insulin injections and transmits it via Bluetooth/NFC to a secure digital self-monitoring log-book on a smartphone. The CLIPSULIN uses Nordic popular nRF52832 SoC as its wireless connectivity chip.
Bluetooth LE plays a significant role in the battle against the COVID-19 Pandemic. Governments and large-scale institutes worldwide use Bluetooth LE technologies in smartphones and wearables in the form of badges, ID holders, bracelets and watches to promptly notify people who have been in close contact with someone diagnosed with the COVID-19 virus.
Also contributing to fighting the global pandemic, are the home test kits. The Ellume COVID-19 Home Test kit, which is powered by Nordic nRF52810 SoC, includes a sterile nasal swab, a dropper, processing fluid, and a Bluetooth-connected analyzer for use with an app on the user's smartphone. Utilizing the dedicated app, the user follows step-by-step instructions to perform the test, including a self-collected mid-turbinate swab. The sample is analysed, and results are automatically transmitted to the user's smartphone via Bluetooth. Results can also be shared with healthcare professionals to enable optimal therapy.
Watch our panel debate video:
How Covid-19 has impacted the IoT and IoT business from Nordic's perspective